Chelonian Research Foundation
Chelonian Conservation and Biology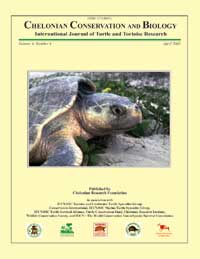 Chelonian Conservation and Biology (ISSN 1071-8443) – International Journal of Turtle and Tortoise Research. We are the only international scientific peer-reviewed journal of cosmopolitan and broad-based coverage of all aspects of conservation and biology of all chelonians, including freshwater turtles, marine turtles, and tortoises. The editorial team for the journal is headed by Jeffrey A. Seminoff and includes several leading international turtle research and conservation authorities.
Editors:
Jeffrey A. Seminoff (Executive Editor), Southwest Fisheries Science Center, La Jolla, California, USA
Jeffrey E. Lovich, Southwest Biological Science Center, Flagstaff, Arizona, USA
Peter V. Lindeman, Edinboro University of Pennsylvania, Edinboro, Pennsylvania, USA
Vivian P. Páez, Universidad de Antioquia, Medellin, Colombia
Anders G.J. Rhodin (Founding Editor), Chelonian Research Foundation, Arlington, Vermont, USA
Associate Editors:
Luca Luiselli, Centre of Environmental Studies Demetra, Rome, Italy
Cristina A. Jones, U.S. Fish and Wildlife Service, Phoenix, Arizona, USA
Sandra Hochscheid, Stazione Zoologica Anton Dohrn, Napoli, Italy
Consulting Editors:
Russell A. Mittermeier, Re:wild, Arlington, Virginia, USA
Eric V. Goode, Turtle Conservancy, Ojai, California, USA
Former CCB Editorial Review Board members (click here).
Volumes 1–4 (1993-2005) were published solely by Chelonian Research Foundation (CRF) and all articles, notes, and commentaries are available as open-access downloadable scanned pdf's or for purchase (click HERE).
Requests for scanned pdf copies of individual articles from these past issues may also be sent to Anders Rhodin via the contact form.

Since Volume 5 (2006) publication has been by CRF in collaboration with Allen Press and Turtle Conservancy and purchase of back issues (2006–current) are available from the Allen Press website (chelonianjournals.org/click HERE).
** CCB has a high Thomson Reuters ISI journal Impact Factor, currently ranked among the top 100 zoology and herpetology journals worldwide.
Since our initial issue in 1993, our worldwide distribution has grown steadily, and we currently have a circulation of about 1000 to more than 60 nations. The depth and breadth of our coverage of turtle research has also increased, and we invite you to evaluate the enclosed scientific table of contents of the issues produced so far and hope that the quality of the research entices you to subscribe. Included in the contents are the formal descriptions of three new genera and three new species of turtles, as well as articles on ecology, systematics, conservation, reproduction, sex determination, breeding and husbandry, pathology, physiology, morphology, and wildlife management. We publish about two issues per year. Every journal depends on its contributing authors, subscribing readers, and institutional libraries for its support. May we count on yours? Please consider subscribing for yourself, or encourage your institutional library to subscribe. We also invite all turtle workers to consider publishing their turtle research with us.